Candidate Recruitment Services
Care Assistants | Domiciliary Care | Support Workers | Learning Disabilities
Many of our temporary staff have worked with us for a considerable period of time and have enjoyed regular and varied assignments.
We respect and appreciate we have a duty of care to you and therefore your welfare is our prime concern. 
Health & Safety in the workplace is paramount and many of our clients rely on us to deliver pre assignment inductions where Health & Safety is the main focus and specific to each client. 
As a member of our temporary workforce not only will we ask you to complete a thorough registration process but we issue you with a Welcome Pack.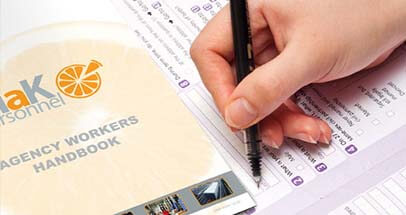 This includes the MaK Healthcare very comprehensive Agency Worker handbook, this not only informs you of your Rights as a Temporary Worker, lists the policies and procedures that are there for your protection but advises on the fundamental principles of Health & Safety in the Workplace & Manual Handling Techniques.
What do I need to Register?
You will need to provide some of the following documentation when you come in to register with MaK Healthcare. 
You will need to register with us before we can start the search for your next job.
If you have any questions about what documentation you need to bring with you please call us on 01493 88 74 80
For more information about Right to Work in the UK please visit the UK Government site here
At MaK Healthcare corporate responsibility is about the core values and principles that govern the way we operate. It's about ensuring our staff have a safe working environment and that we gain the trust and respect of our clients. We aim to create a balance between the development of work opportunities with our clients, stimulating and rewarding our staff and upholding the fundamental principles that govern our industry. Applying a framework of policies and Procedures that meet all legislative and ethical requirements. And achieving complete compliance . 
These include but are not limited to:
Confidentiality Policy
Disciplinary and Dismissal Policy
Environmental Policy
Ethical Trading Policy
Data Protection Policy
Drugs & Alcohol Policy
Equal Opportunities and Diversity Policy
Quality Policy
Healthcare Team Contact Details
Our Healthcare Recruitment  Division supply temporary and permanent staff to the healthcare sector for both private and local authority clients.
What our customers say about us?